The loveliest fireplaces
Nothing beats the warmth of a real (open) fireplace. Be inspired and forget the cold winter days. A crackling open fire banishes the biting wind, leaving it outside! Create a cosy home with Potier Stone, because what could be more attractive than robust stone to contain the dancing flames? Demand for a magnificent open fire is high and the range is wide. Potier Stone helps you with your natural stone and your own fireplace, custom made!
Classic and robust
Natural stone is a robust, pure material. The stone stands out and needs but little: this stepped fireplace in Nero Dorado was given a high-gloss finish. The base is four meters long! The adhesive joints in the natural stone are flush and virtually invisible. Do you see how the pattern continues flawlessly? Without Magic Split this would have been technically impossible. Designer INsight-IN gave this classic idea a new touch. Photos by: cafeine.be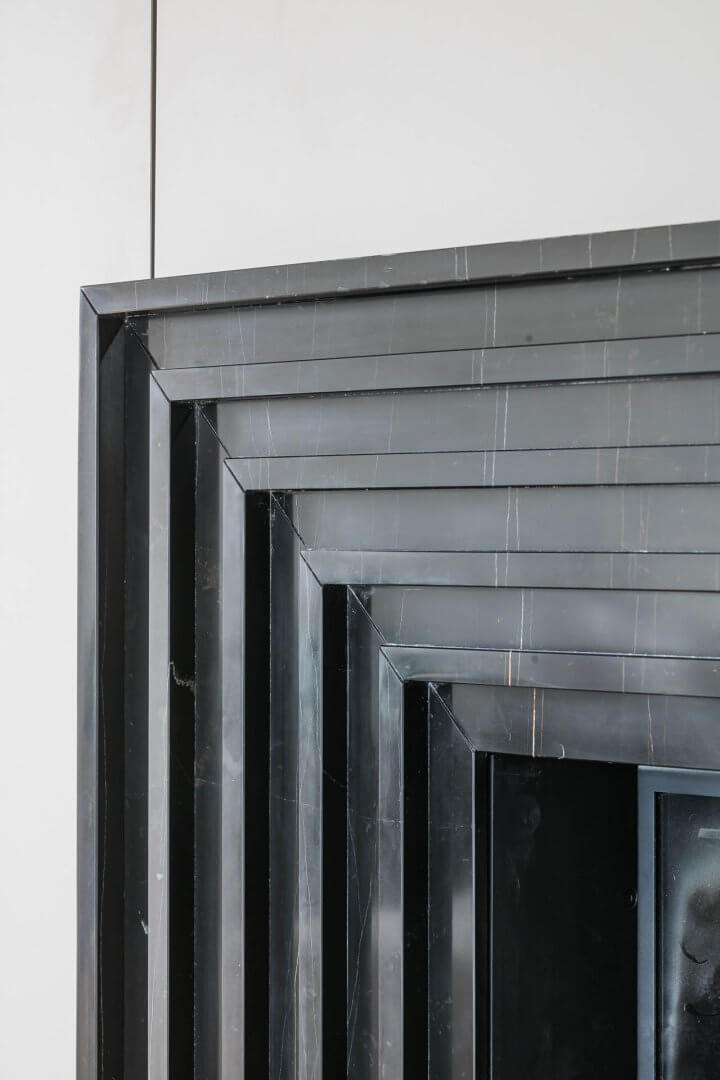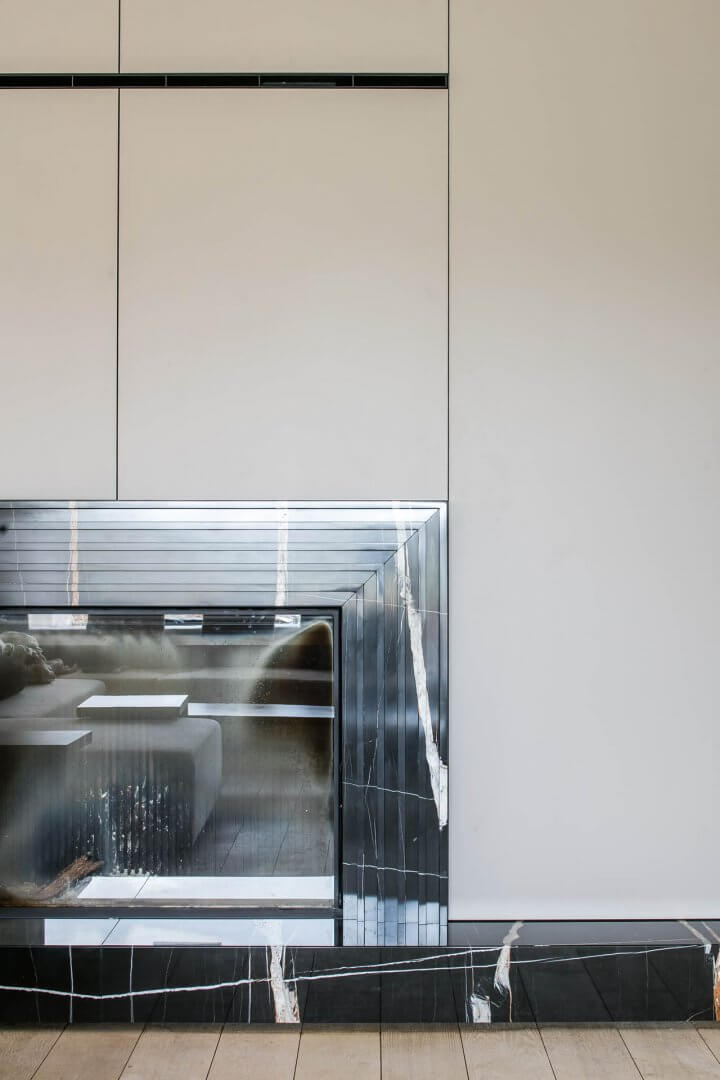 Stylish and sleek
There is no such thing as 'too sleek'. Potier Stone created this modern black and white fireplace together with iFiRE.  Simple, without compromising on style and quality. Fire always appeals to the imagination, something which iFiRE has clearly understood. Wood-burning, gas, electric and bioethanol fireplaces – you're sure to find what you are looking for. In addition, iFiRE manufactures iWALL, a unique ready-to-use modular system that allows you to build a fireplace in less than a day. The modular system works marvellously well with our natural stone. These fireplaces are a delightful blend of progressive technology, minimalistic design and primal quality.
In search of a fireplace for your sleek home? Interior design firm Wille knows better than anyone what options are available! This superb example was produced by Potier Stone in Emperador Brun (aged). If you like brown shades, you are sure to be captivated by this magnificent fireplace. Like to see the rest of the home? The customer chose this distinctive material for the entrance hall, kitchen, bathroom and dressing room, as well. Images: Cafeïne
Audacious and grandiose
Would you like just that little bit more? Potier Stone can provide inspiration for fans of special fireplaces. However quirky your idea, we dare to create it.
Why not go for an electric fireplace? Curl up in your armchair and enjoy your own, custom-made fireplace. Without having to haul logs of wood around!
An open fire in the living room seems obvious, but what if you were to put it in the kitchen? iXtra makes things cosy with a built-in fireplace at table height. Tastefully positioned facing the dining table – what a picture. A natural stone cabinet has been installed under the fireplace. The horizontal lines continue attractively across the cabinet wall. The customer chose a honed finish. Ideal for a matte look and a naturally warm feeling. The marble was also used in the rest of the kitchen and blends perfectly with the Woodstoxx woodwork. The photos were taken by interior photographer Cafeine.
Artistic and different
Do you want an artistic fireplace? Then natural stone with a mirrored bookmatch pattern is something for you. We can let you have an example of all the possible drawings. That way, you can be sure of making the right choice. Here the stylish Mystic Brown was used creatively above the fireplace. Would you like to admire this stunning fireplace with your own eyes? In that case, go along to the Bosmans Fireplaces showroom. Their work is sublime: you are sure to be able to relax and unwind in your home, by your own hearth. Bosmans' baseline is 'Towards visually silent interiors, made in Belgium' with a reason. Photography by Cafeïne.
Dream on?
Follow Potier Stone on Pinterest and pin away!
More info?
Please feel free to contact us.